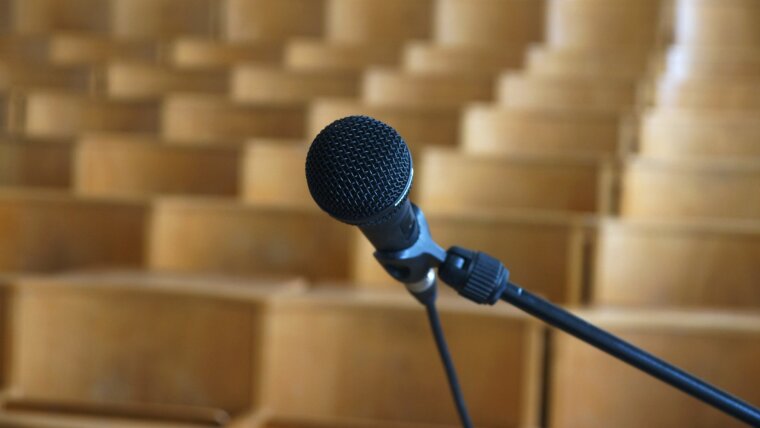 Jena Economics Research Seminar
JERS
Mikrofon in einem Hörsaal
The Jena Economics Research Seminar (JERS) provides a platform for invited speakers to present their current research in economics. The seminar covers both empirical and theoretical contributions from all fields of economics. All presentations and discussions are conducted in English. The JERS is a collaborative initiative by the University's Economics Research Group, the Schumpeter Center for Research on Socio-Economic Change (JSEC), and the Jena Graduate Schools "Human Behaviour in Social and Economic Change," "The Economic Impact of Digital Transformation," and "The Economics of Innovative Change."
The seminar is held in presence in seminar room 102, Bachstrasse 18k, Jena. It is as well possible to participate in the seminar series online. If you would like to join, please write a mail to to get the access data.
The seminars in this semester will be the following:
26.04.2023 14:00
Malte Rieth (Martin-Luther-University Halle-Wittenberg/ DIW Berlin)
"Comparing the Efficacy and Efficiency of Fiscal Interventions"
10.05.2023 14:00 
Maximilian Göthner (University of Twente): 
"Enhancing financial inclusiveness through algorithmic advice: Evidence from microfunding of start-ups in the Netherlands"
17.05.2023 14:00
Nikolaus Seitz (University of Augsburg):
"Evaluating the Effectiveness of Innovation and Entrepreneurship Policies: A Meta-Analytical Review of Past Research and Evidence from Germany´s Policy Mix"
24.05.2023 15:30
Özlem Dursun-de Neef (Goethe-University Frankfurt):
"Green versus sustainable loans: The impact on firms' ESG performance"

07.06.2023 14:00
Jürgen Hohwaldt  (TU Dortmund): 
"Re-framing Innovation Policy -Social Innovation and a New Innovation Paradigm"
21.06.2023 14:00
Martin Lange (ZEW):
"High-Profile Crime and Perceived Public Safety: Evidence from Colognes's New Year's Eve in 2015"
05.07.2023 14:00
Stefano Basilico (GSSI - Gran Sasso Science Institute):
"Regional knowledge bases and the twin transition: mapping the distance between green and digital technologies"
previous seminars:
Winter Semester 2022/23pdf, 1 mb
Summer Semester 2022pdf, 104 kb
Winter Semester 2021/22pdf, 77 kb