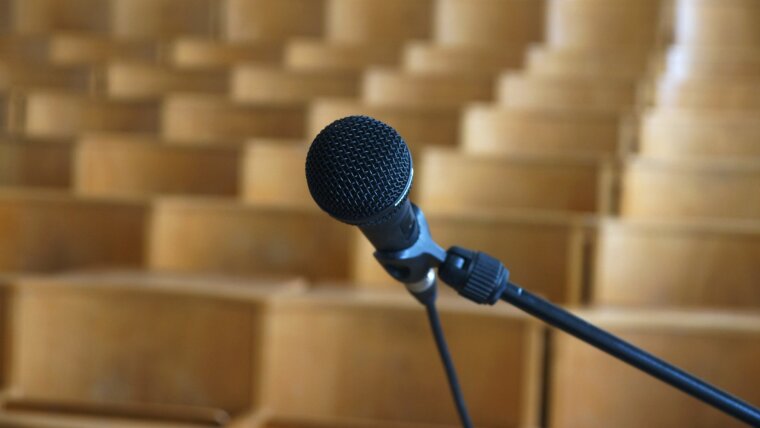 Jena Economics Research Seminar
JERS
Mikrofon in einem Hörsaal
The Jena Economics Research Seminar (JERS) provides a platform for invited speakers to present their current research in economics. The seminar covers both empirical and theoretical contributions from all fields of economics. All presentations and discussions are conducted in English. The JERS is a collaborative initiative by the University's Economics Research Group, the Schumpeter Center for Research on Socio-Economic Change (JSEC), and the Jena Graduate Schools "Human Behaviour in Social and Economic Change," "The Economic Impact of Digital Transformation," and "The Economics of Innovative Change."
The seminar is held in presence in seminar room 102, Bachstrasse 18k, Jena. It is as well possible to participate in the seminar series online. If you would like to join, please write a mail to jsec@uni-jena.de to get the access data.
The seminars in this semester will be the following :
18.10.2023 16:00
Wladislaw Mill (University of Mannheim)
"LinkedOut? A Field Experiment on Discrimination in Job Network Formation"
15.11.2023 14:00
Ann-Marie Sommerfeld (FSU Jena)
"The effect of schooling on parental intergration"
22.11.2023 14:00 Uhr
Trung Khanh Hoang (FSU Jena)
"Paycheck frequency and the need for liquidity of American workers"
29.11.2023 14:00 Uhr
Co-Pierre Georg (EDHEC Business School, Nice)
"Anticipated Financial Contagion"
06.12.2023 14:00 Uhr
Peter Draper (IIT Adelaide), Naoise McDonagh (Edith Cowan University Perth) 
"tba"
10.01.2024 14:00 
Andreas König (University of Passau): 
"tba"
17.01.2024 14:00
Yvonne Giesing (ifo):
"tba"
24.01.2023 14:00
Torben Klarl (University  of Bremen):
"tba"

07.02.2023 14:00 Uhr
Simon Wiederhold (IWH)
"Early Child Care and Labor Supply of Lower-SES Mothers: A Randomized Controlled Trial"


previous seminars:
Summer Semester 2023pdf, 856 kb
Winter Semester 2022/23pdf, 1 mb
Summer Semester 2022pdf, 104 kb
Winter Semester 2021/22pdf, 77 kb